ALBINO FAWN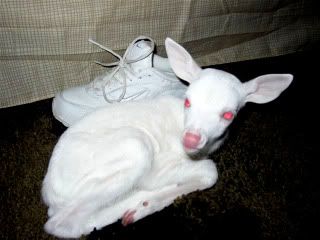 Friends & family have been sending me some great pictures lately.
Here is one from my sister Bonnie.

Here's the scoop:
"Albino fawn picture from folks who live on Bolivar Peninsula, Texas.
This little feller ran out in front of a car, thought it was a lost baby goat. Stopped to get it, and WOW! a real albino Whitetail deer, just hours old and no moma deer around. Another car nearly hit it.

One in a million are ever born. He took his bottle of food, followed us around the house and is doing great. The kids called him "Powder."

It is illegal to raise a fawn at your home so they contacted the Game Warden to come for him. The fawn's foster family were assured that he would be well taken care of.

Thank's Bonnie. This is a great picture.