RUDOLPH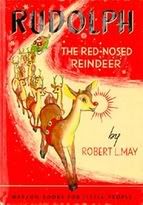 The character 'Rudolph the Red-Nosed Reindeer' was created for the Montgomery Ward group of department stores
Rudolph came to life in 1939 when the Chicago-based Montgomery Ward company (operators of a chain of department stores) asked one of their copywriters, 34-year-old Robert L. May, to come up with a Christmas story they could give away to shoppers as a promotional gimmick.
May, drawing in part on the tale of The Ugly Duckling and his own background (he was a often taunted as a child for being shy, small, and slight), settled on the idea of an underdog ostracized by the reindeer community because of his physical abnormality: a glowing red nose.
This Christmas song was sung and made popular by another
Bigwhitehat
cowboy, Gene Autry.