MY GRANDMA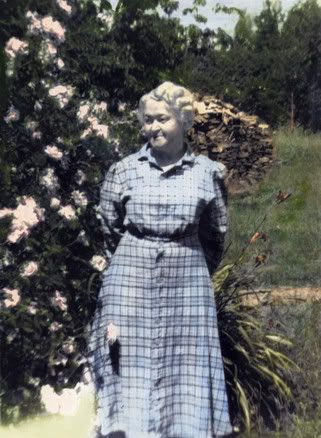 She wasn't wrapped in furs and jewels for she was not wealthy in worldly goods.
She wore plaid housedresses and black clunky shoes, corsets with long stockings, and hairnets.
She didn't belong to social clubs, and had no desire to sit amongst the so-called elite of the city. She preferred lunching at the 'poor' part of town where she could buy a meal for a newfound friend who was down and out and share her love of Jesus.
She never shopped at fancy stores, but found second hand stores more to her liking.
Grandma never spoke badly of anyone, but always found something nice to say.
She wasn't shaped like a model; She was short and round, soft and warm.
She hadn't much to give but lovingly gave what she had to anyone in need.
When she ran out of family, friends or things to pray for she prayed for hours for our boys overseas.
She always 'had time' for her grandchildren. She told them ghost stories, and made peanut brittle and potato soup for them. When they were lonely or tired she would sit them in her soft lap and rock them while singing old Scottish and Irish songs.
Her little house was always warm with the smell of apple peels toasting on top of her wood range.
Her apron which hung around her neck and tied in back, held green beans and tomatoes from the garden, and shiny red apples from the old tree behind her house, and always had a hanky in the pocket, to dry the tears or 'blow' noses of the little ones.
I never heard her say a bad word, but once she heard me say one, and looking very disappointed in me, she simply said, "I wouldn't have in my hand what you just had in your mouth." It was enough.
I washed my own mouth out repeatedly with a soapy washcloth, trying to wash away the shame. It broke my heart that I had displeased her.
There is so much to tell about this fine lady that I could write a book. Maybe I will.
We all have someone in our live who holds a very special place.
I was inspired to share my Grandma, after reading a precious tribute to his grandfather by
Bigwhitehat
.
Thanks much Bigwhitehat.