Another Sort Of Critter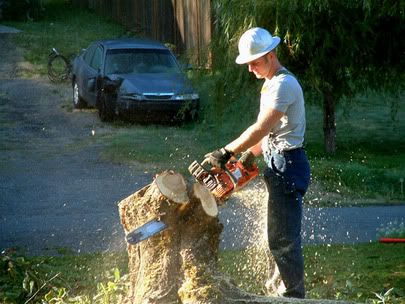 In my last post I had a picture of a deer by a cherry tree in my front yard. This one is of another sort of critter working on what's left of that cherry tree. (A nice looking critter too) :)
A crew of five men came early Monday morning and removed two trees from my front yard that were growing into the power and cable wires.
They accomplished this in approximately 30 minutes. The Cherry tree was at least thirty years old and very large. The Cedar was also quite tall. They put the whole works through their new chipper and hauled it all away.
I could probably do without lights, but I have withdrawl symptoms when I don't have internet.
(The smashed car in the background is NOT mine)