ANOTHER HERO RETURNS!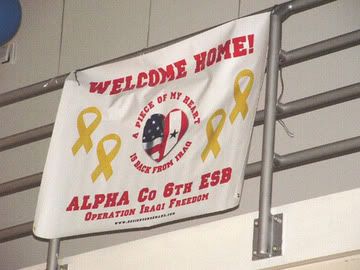 Paul went to Iraq January 3, 2005 and returned on September 25.
The Marines are based in Al Said, which is the next to the largest base in Iraq.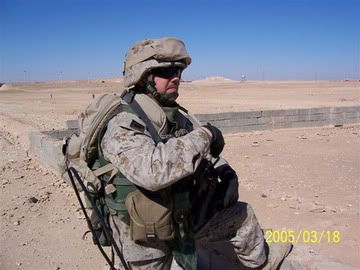 Paul
The Marines are required to wear this heavy uniform in blistering temperatures.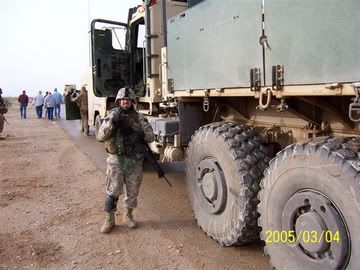 Sgt. Paul Cooke was assistant Convoy Commander. Their job was to go out and repair the roads. They were under constant threat of insurgent attacks. They were out there without rifles but had units in front and back of them for protection.
When the convoy reached the holes scheduled for repair, military police establish a safe perimeter and divert traffic around the site, then the construction team dismounts and teams sweep the area for mines.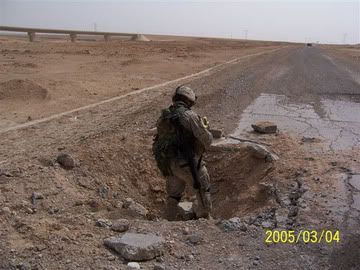 Paul
Once a crater is deemed clear of threats the team uses shovels to clear loose debris from the inside and sprays paint to mark where the surface needs to be cut with a jackhammer. Once the hole is repaired the Marines use a custom stamp to inscribe the name of the Oregon town they are from on the patch.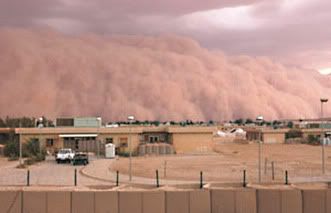 This dust storm which was 4,000 to 5,000 feet high was at Paul's base.
Paul had three close calls in Iraq. First he went out on a convoy and his truck hit a device which turned his truck over and they thought that he was dead. Another time they were hit and two Marines were killed.
The last time, they were the fourth truck on a convoy and they decided to pull over and get out and relax. When they looked down they saw a wire coming out of the road, so they went back and dug up the mine and blew it up.
Paul arrived in Baghdad on his birthday Feburary 15th and came home on his mother's birthday, September 19th. Then he went to Oregon to be with his wife and children, arriving September 24th.
Paul is in the process of leaving the Marines and looking forward to building a new life with his family.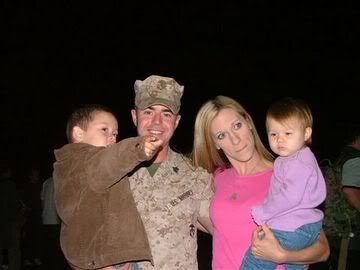 Paul, Jayce, Lara and Lexi, Together again.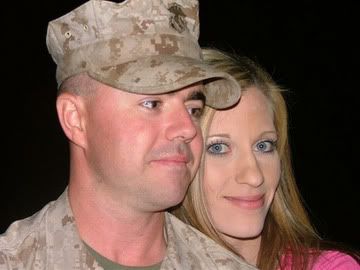 Thank you Paul and Lara for your unselfish sacrifice. God Bless you and the many others like you, and GOD BLESS AMERICA!
(my thanks and hugs to cousin Lili for the pictures and info)