SHAWN'S ICE CASTLE
Here in the far northwest corner of Washington State, it has been a pretty warm summer. Temp's have been in the 80's and the soil in my garden's is so dry that when I water it just runs off.
During some of our warmer days, I have had daydreams of rainstorms, wind and even snow.
I realize many parts of the state are cooking so decided to share a few pictures I took way back in 1989. Maybe they will cool us off!
Before I had a proper faucet, it was necessary to leave the water slowly running outside when the temp's got too low so our water pipes wouldn't freeze, especially when the Northeast wind was howling around the house.
This particular year I had the garden hose connected to the faucet and the water trickled over the hill out back.
The next morning we saw that the wind had blown the water onto some brush and formed an ice glaze over them.
Later that day my son decided to connect the sprinkler to the hose and turn up the water a little, just to see what woulld happen.
The wind cooperated and we were not disappointed.
The freezing temps and wind continued, so we turned up the water pressure every few days and before long we had a small Ice Castle. All the kidlets in the neighborhood thought it was a great place to play.
Here are some of my grandkids
and nephews. Do you see the American Warmonger?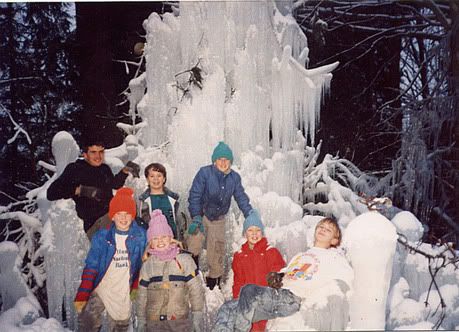 After about a week the castle became quite large. Neighbors came and took pictures.
The one below I took of my Brother In Law, Fred.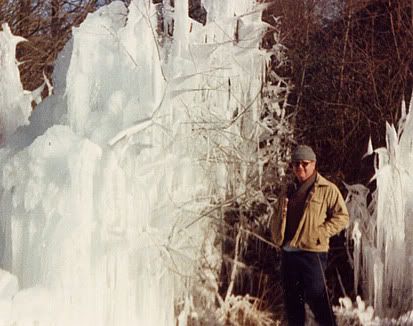 One bright sunny day, my son and I were investigating our sparkling Crystal Castle which looked different at every angle, but by climbing up one side, my son found a place where the drops of water had landed and frozen one upon the other, making a well shaped formation, nearly large enough for a man to stand inside. He gave me a boost up the icy wall so I could see it too. The sun directly overhead was shining down inside creating the illusion of trillions of rainbow sparkling diamonds. It was one of the most awesome sights I have ever seen. I wish I had had my digital then!
In other places there were formations like desert roses, clusters of grapes, stalagmites and stalactites, and many more. The tallest part must have been 14 to 16 feet high and it covered an area about 20 to 25 feet long.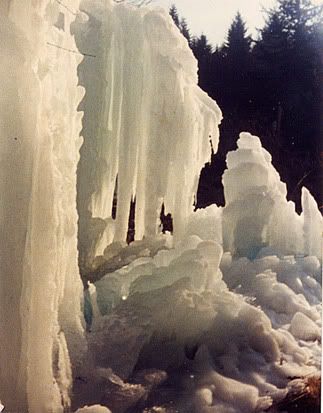 One day I mixed up some food colorings with water and used an old enema syringe to squirt colored water on some of the formations. Blue, red, green, purple and aqua were pretty but the yellow wasn't.
Sometimes when we let our children try new things it can be an awesome adventure for everyone.