FROM GLACIER SEED?
I have lived in Whatcom County all my life and have always had a keen interest in the wildflowers here. Last week I went walking at the Nooksack River with my sisters.
The river is very low and there are many exposed sand and gravel bars to explore.
I was amazed to find several wildflowers I have never seen before growing, in the same sand bar. I took lots of pictures and am posting some.
Now I am wondering if it is possible that seed can be trapped in glacier ice for many years, and eventually find it's way down river and under the right conditions, sprout and grow in the sand bars.
If you have ever heard of this please let me know.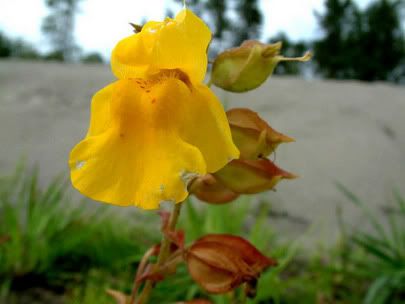 Mimulus Guttatus 'Monkey Flower'
Identified by Jill Cotton, WSU Master Gardner