GOLDEN FRIENDSHIP ANNIVERSARY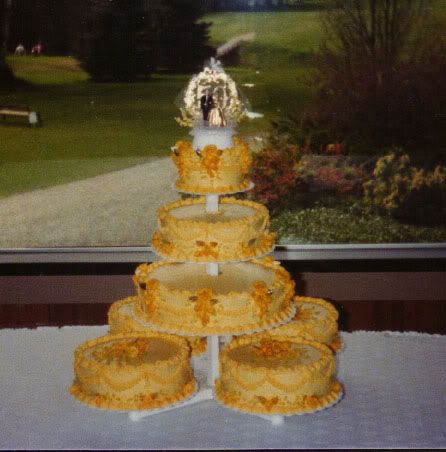 I made this cake in 1980 for a couple celebrating their Golden Wedding Anniversary.
Today my forever friend, Bonnie and I celebrated our 50th "Friendship" anniversary.
In June of 1955, Bonnie and I met for the first time when we double dated with our 'then' boyfriends, who later that summer became our husbands. Frank and Jerry had gone to school together and had been close pals for quite some time. Bonnie and I had both turned 16 and had just started dating so were very inexperienced, but of course wanted to appear as sophisticated, worldly women.
Our future husbands were 19 after all and had 'been around.'
I was so 'sophisticated' that the first time I dated my future husband, in the warm month of June, I wore a heavy wool coat to protect my 'parts' incase he tried anything and if that didn't work, I borrowed mother's sharp little paring knife and kept it hidden in my pocket incase I had to stab him and make a run for it. Yes there were virgins back then.
Oh yeah, I was sophisticated alright.
One double date we had, we drove to Birch Bay. The boys had managed to get some beer, and we were all drinking. Bonnie and I were angry because the boys wanted to sit together in the front seat to talk. We wanted a more romantic date and some attention. Bonnie and I got out of the car and walked a short distance down the beach then proceeded to roll picnic tables into the bay. I think we were rebelling, but beer has an odd effect on me, I really don't know what we thought we were doing.
My friend reminded me today that on another double date we drove a distance to some beaver ponds and drank Dandelion wine my mother had made. She said I brought the wine. If I did ,I stole it. I don't remember this at all. I don't really want to.
When she and her boyfriend wanted to get married, we all dressed up like 'adults.' The boys wore suits which were much too big for them, and did not compliment their crew cuts, acne, and gear grease under their fingernails from working on the constantly broken cars.
My dear friend Bonnie and I dressed up in high heeled shoes, I borrowed a grown up looking ladies suit from my aunt, and she wore a similar outfit. We plastered our sixteen year old faces with make up, including bright red lipstick and rouge, and wore old lady hats.
Of course we thought we were very grown up looking but in reality we must have looked like a bunch of clowns. Bonnie and I were farm girls. Walking in those high heeled shoes sure made us awkward. I kept twisting my ankles and tripping.
We drove to Seattle that day, found the court house and Bonnie and Frank somehow managed to get a marriage license with my boyfriend and I as witnesses. We wonder now if their marriage was legal.
That September, Jerry and I were married and did not have the slightest idea what we were doing. We had rented a small cottage for $45. a month but forgot we would need food. We had sympathetic families who helped us out until pay day.
Bonnie and Frank and Jerry and I enjoyed a lot of time together over the years, playing cards, birthday parties, etc.
We had five children they had three.
Bonnie and I hated to iron clothes but there was no wash & wear back then so we devised a great plan. One week she would pack up her ironing board, iron, ironing and kids, stop for a six pack and come to my house. The kids played while we ironed, with a bottle of cold beer on the end of our ironing boards. Boy it sure hit the spot on those hot days, and the ironing went much faster.
When our ironing piled up again I would pack up mine, get the beer and go to her house.
Our marriages both lasted about 16 years before the boys began to wander and we divorced.
Our ex-husbands have not seen each other in years, but Bonnie and I are still the best of friends. We remember the days of our girlhood and marriages with laughter, and now also with a wisdom that only age can bring.
There is no place for regret or bitterness in us now. We did that. It wasn't fun. Life's too short.
Now we see the humor, and in our golden years can laugh about it all and really mean it.
Today we ate forbidden Bismark donuts, reassuring each other that the extra pounds we carry are because of all the weight the years of information stored in our brain has added.
We sat in my lawn swing, watching hummingbirds and butterflies,
and reminisced about the 'old days' and laughed because every tenth or so remark was, "I don't remember that." Some call this 'Senior Moments' We just say, "oh well, it wasn't important anyway."
Everyone should have a friend like I do. Someone you can tell your deepest secrets, and share such happy times with.
Bonnie and I will not have another fifty years here. And probably not even twenty five. I will be thankful for what ever time our Creator will allow, and even more thankful that we will be together with Him for eternity.
Happy Golden Anniversary dear friend. Boy have we lived!