The Wallflower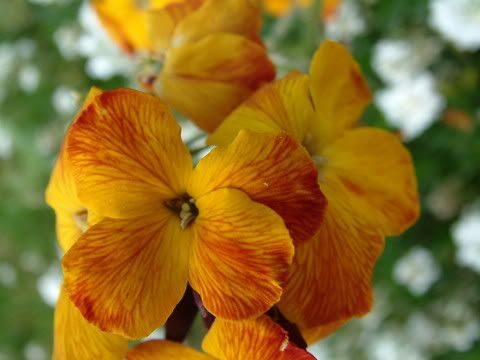 This flower has been grown for many years. It is not as lovely looking as a rose but the fragrance is incredible! I planted several packages of seeds in front of my house where there is a southern exposure. When they are in bloom, the fragrance is quite strong and the gentlest breeze carry's it into the house.
The following bit of interesting trivia was gleaned from 'Tartan's.com'
"C. cheiri. Wallflower. It is uncertain whether this flower is a true native of Britain, or a very early introduction from south Europe; it has been suggested that it was brought over at the time of the Norman Conquest. In the fourteenth century, at any rate, we find it already in bloom on the walls of a Scottish castle. Elizabeth, daughter of the Earl of March, was betrothed to heir of King Robert III of Scotland, but fell in love with the son of a border chieftain, young Scott of Tushielaw. Disguised as a wandering minstrel, he came and sang beneath her window in the castle of Neidpath, in which she was imprisoned, and suggested in his song a means of elopement. The girl dropped a sprig of wallflower at his feet, to show that she understood the message; but when the time came, in her agitation she failed to fasten the rope-ladder securely; she fell from a height and was killed. Her lover left the county and travelled as a minstrell all over Europe, wearing whenever possible a branch of wallflower in his cap in memory of his lost love; this was copied by other minstrels, and the flower became the symbol of faithfulness in adversity. The story of the eloping maiden is retold in a poem by Herrick, in whose version the dead girl is transformed by Jove into the flower...