Happy Mother's Day Mama
My mom was born March 31, 1919. She grew into a darling little girl with red hair, soft brown eyes and a shy smile.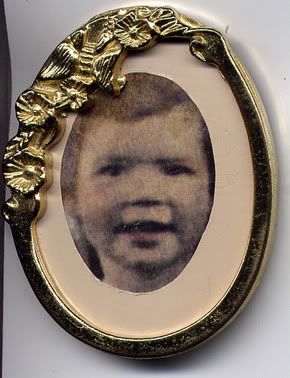 She became a strikingly beautiful young woman and at age 18 she married her 'Kenny.'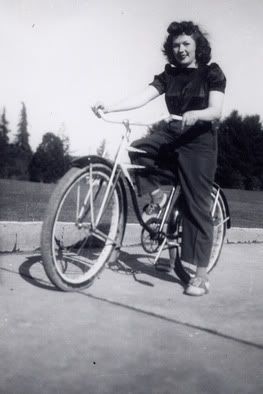 They had a very happy life together. They loved fishing, especially Steelhead, and they were very good at it. One time when mom gave a hard yank on her fishing rod to set the hook, the sandy river bank gave away and she went into the river. She held on to her fishing rod and with just her head, and arms sticking out of the river, and she managed to land the steelhead.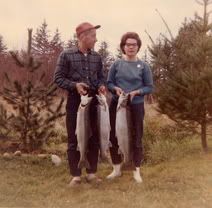 Mom loved gardening and grew every kind of vegetable and berries. She made jams and jellys to put on her delicious homemade bread and buns. Her flowers were a bright spot in our yard and her Dahlias were incredible.
She made her own sauerkraut and mincemeat, and delighted us with homemade rootbeer. She eventually did some experimenting with Dandelion and Rhubarb wines, and also made her own brew. :)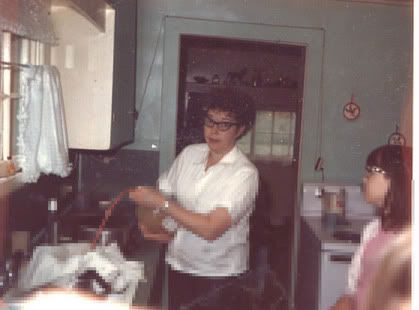 After her beloved Kenny passed, the sadness never left her eyes, but she found joy in things most people over look. One day she picked a bouquet of clover and was delighted with their beauty and fragrance. Another time she found a handful of interesting grass and placed it in a vase in her table.
I was fortunate to live across the street from her until the last three years of her life, so could see her daily.
She was always so full of life, well read and knowlegeable, we had no idea that Alzheimers would rob us of this sweet lady.
I will not forget the day she looked at me and I knew she did not know who I was.
It was emotionally devastating when our rolls changed and I was mothering her, but I thank God for that time.
Eventually there was no recognition at all, just the blank stare. But I could make her laugh and it was her laugh that kept me strong. It was the one thing about her that did not change.
She lived with me the month of March in 2001. Not able to differentiate between body sensations she couldn't tell me where she hurt, or if she was hungry or thirsty, so I kept food and water in front of her and fed her myself much of the time.
One day my granddaugter came to visit with her children. Her oldest was three and
always asked me to put lipstick on her. This day she asked her Great-Great Grandma if she wanted some too. Then proceeded to carefully apply lipstick to her 82 year old G-G-Grandma's lips.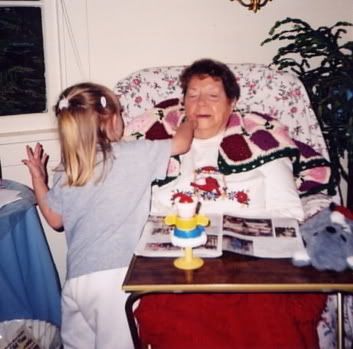 This is one of the last pictures I have of my mother. She left us on June 26, 2001, three months after this picture was taken.
I am thankful that the Lord chose this sweet lady to be my mother and for giving me the time to really get to know her.