Meet Miss.Tildy Rose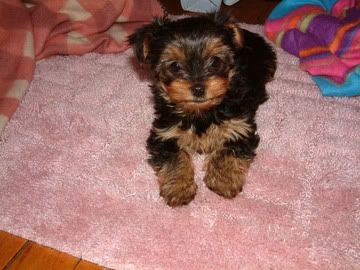 Tildy came into our family on April 10th this year, at eight weeks old and weighing about a pound and a half. She has a sweet little baby doll face and a rather stubborn attitude. When she isn't curled up sleeping where ever she happens to get tired, she is playing with Toodles, chewing up everything she can reach and learning that her bathroom is outside.
Tildy has rounded out our family perfectly. Toodles is very happy again and although I still miss my Barney, these two little rascals have brought a great deal of plain, pure joy into my life. They walk with me in the gardens, and sit with me in the lawn swing. They love me to play my new Casio keyboard, and we all sleep together, toodles at my side and baby Tildy curled up on my shoulder with her nose buried in my hair.
My little Yorkies are everything I ever dreamed they would be, and a lot more.