The Brooding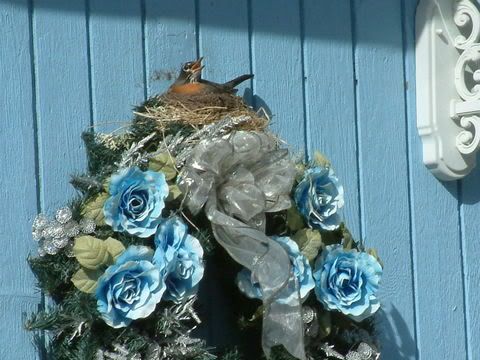 Either Mrs. Robin layed a fourth egg today or her brooding process has begun. She has been on her nest most of the day and didn't seem the slightest bit disturbed when I slowly walked from the back of the house to get a few pictures of her. I will try to get a peek in her nest tomorrow while she is out feeding.
She watched me carefully the entire time I was taking pictures but she stayed perfectly still.
Now I am wondering if Birds have pain when they lay eggs
like women have labor and birthing pain.
I think they do. Considering the size of a bird and her eggs. OUCH!
Maybe that's why hen's cluck furiously after they lay an egg.
Mamma always said that the hen was saying, "look-look-look what-I-did."
Maybe she was really saying, "touch-me-again, you're-dead-meat.
Well, maybe!